Return to Headlines
A Calling to Teach: Two Incredible Stories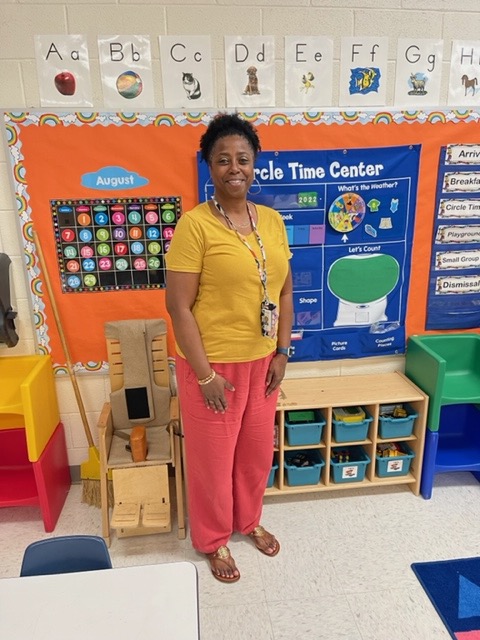 Ms. Shawn Wherry enters her Central Child Development Center room to begin her 20th year in that classroom. The same classroom she has been impacting children for two full decades. But this year is different. Ms. Wherry is now the teacher in the classroom.
Ms. Wherry had been a teacher assistant at the CCDC since 2002, staying year after year in the same classroom. She decided to become a teacher and graduated from Winthrop University in May 2022. Remaining at the CCDC, she was hired as a teacher and placed in the classroom she had worked as an assistant all those prior years. "The feeling is an indescribable joy that I cannot explain," said Ms. Wherry. "To know that I once was an assistant, student-teacher and now a teacher in the same class is a joy that is hard to put into words. Each morning when I walk into the classroom, I know this has been a blessing from God in which I thank him every day."
Upon arrival, Ms. Wherry greets every student and is able to interact with him or her at the beginning of the day. Having that time allows her to make connections and build relationships with her students. "My favorite part of being a teacher so far is being able to interact with each student and learn about their superpowers that they were born with," said Ms. Wherry.
Ms. Wherry loves being able to use her own ideas and techniques to teach and reach the students' needs in a fun and enjoyable way. One of her favorite activities to do with the students is crafts. "Most of our crafts align with the units and themes we are working on," she said. "My students enjoy making crafts, this is my favorite thing to do with them because their work is not the same and is made by them."
As Ms. Wherry is creating new memories as the teacher, she remembers the past… especially a particular Thanksgiving. "One of my best of all time memories of CCDC, was presenting a Thanksgiving program with my lead teacher," Ms. Wherry begins to share the story. "I would practice our songs to sing for the parents. This particular song was 'A Turkey Name Burt' and the students loved it. When it was time to sing for the parents on the day of the program, my lead teacher and I both forgot some of the words and looked at each other for help as the room was completely silent." Still to this day when asked about it, they both laugh as if it happened yesterday.
Ms. Wherry was born in Rock Hill and attended Rock Hill Schools throughout elementary, middle, and high as a child. She is happy that she can give back to the community in which she grew up. She has two children, Devin and Zari, and three grandchildren, Eli, Ethin, and Eliva, which she describes as "the sweetest." During the 20 years she has worked in the Rock Hill School district, she feels blessed to have had the opportunity to attend college. First at York Technical College, there she received her Associate's degree in Early Childhood Education. She earned her Bachelor's degree in Early Childhood from the University of Liberty. In May 2022, she completed her Winthrop MAT cohort and earned a Master's of Art in Teaching in Special Education.
Taking the leap of faith and going from assistant to teacher, Ms. Wherry is excited for the school year and the years to follow. "I pray that my students gain knowledge from me that will sharpen their lifelong skills to be able to function as an adult."
---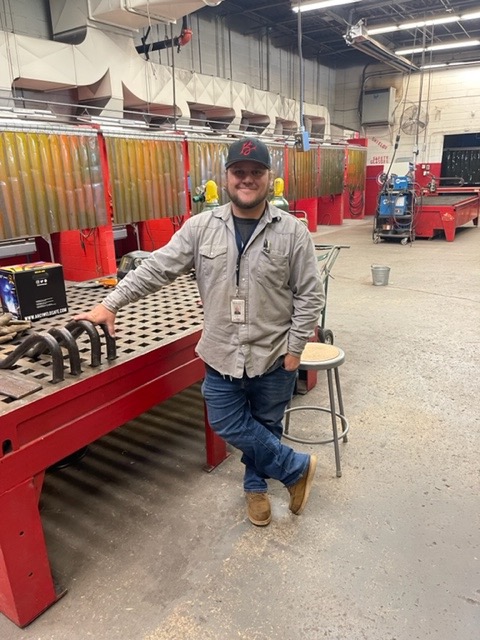 Mr. Miles Broome has traveled all over the country, 38 states to be exact, all thanks to welding. A skill that he learned at the Applied Technology Center, a skill that has provided for his family, and a skill that he is now teaching to others. After years of travel and a stint in Colorado, Mr. Broome is back in his hometown of Rock Hill and became a teacher in the same school in which he learned his trade.
"Every class that I took at the Applied Technology Center was impactful, even the instructors of classes I didn't attend found a way to influence me," said Mr. Broome. "Without the amazing instructors in which I had the privilege of attending their classes, I would not look back on high school so fondly. A lot of my future success after high school is all owed to these amazing instructors."
Mr. Broome now has the chance to be that instructor for someone else. Currently, he is the ATC teacher for Welding Technology 1 & 2 and Welding Technology 3 & 4; and working towards his certification with SC Direct. His decision for a career change came when his son was born. "We couldn't keep our little guy that far away from family," said Mr. Broome.
In developing connections to his students, Mr. Broome is an open book with his interests and hobbies that aren't related to welding. He is an avid artist, musician, hiker, hunter, kayaker, and camper. He hopes that sharing his passions will allow him to connect to students who might not particularly want a full-time career in welding. "I plan to give engaging, fun, and real-world projects to simulate the industry," he said. "But, I also want to give them ample free time to be artistic and creative and make something they can call their own and take home."
Having the perspective of being both a student and a teacher at the ATC, Mr. Broome is very interested in the "behind the scenes" of how a career center, such as the ATC, operates and manages to provide top level experience for its students. "It blew me away at how much these instructors work and fight for their programs and students. It truly is inspiring," he said.
Mr. Broome believes in hard work and he hopes he can be the example to show his students there are more options than just a four-year university. "I want them to see that they can obtain a skill and make great money," he said. "I wish for them to see that a small town person can make a big life for themselves in any faucet of work as long as they are willing to put in the hard work."
---
Are you or someone you know wanting to change careers? Want to get certified to teach? Learn about ways to become an educator, even from other career fields. Check out the Teachers of Tomorrow, Career and Technical Education (CTE) Work-Based Certification, Program of Alternative Certification for Educators (PACE), and others. https://ed.sc.gov/educators/alternative-certification/.