Return to Headlines
Kindness Counts: Celebrating Random Acts of Kindness Day, Today & Every Day
Hands eagerly shot in the air waiting to be called upon. Ms. Kim Nordin's fifth grade students at Richmond Drive Elementary School had their chairs in a circle for the morning meeting; and with lots of hands in the air, students were patiently waiting for their turn...
… "We could help the cafeteria people clean up afterwards"
… "Set up a scavenger hunt for the 5K students to enjoy"
… "Leave wrapped treats for the front office"
… "Make positive signs to hang around school"
… "Make bookmarks and leave them in the library for kids to take"
Today is Random Acts of Kindness Day and Ms. Nordin's students were collaborating on a list of ideas for acts of kindness they could perform today at school. Ms. Nordin's fifth graders are no stranger to kindness though; they have been discussing and practicing kindness the entire school year. "I think it is important to discuss kindness with my students for many reasons," said Ms. Nordin, "I think it helps students to see how easy it is to be kind to each other in the classroom. This is part of social and emotional learning that is just as important as academics."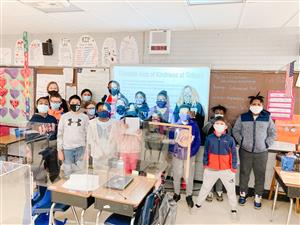 Kindness is one of the top priorities for Ms. Nordin's classroom. During classroom morning meetings, they discuss quotes about kindness, ways they have shown kindness to others, and what being kind means to them. "The importance of being kind isn't always shown in big gestures, it can be simple things like holding the door open for someone," Ms. Nordin reminds the students.
While they practice kindness on a daily basis, the class has also focused on doing one big service project for the community each month. This month, the students wrote homemade Valentine's Day cards for residents of two local nursing homes and online Valentine cards for kids at the St. Jude Children's Hospital. "It made me feel happy because when I know I am giving to other people it makes them smile," said 5th grader Brooklyn, "And that it can make their day."
In January, Ms. Nordin shared this quote with her students: "Don't give to get. Give to inspire others to give." She then shared with them she was going to be joining one of her friends, a staff member at Finley Road, in purchasing items to donate to the Salvation Army. Ms. Nordin explained to her class what the Salvation Army does for the community and their mission to help others in need. The students were excited and wanted to participate as well.
Over that week in January, the students brought in items to donate totaling 24 bottles of shampoo, conditioner, and body wash, 9 deodorant sticks, 8 tubes of chapstick, 7 pairs of gloves, 8 pairs of socks, one scarf, and individually wrapped items of food. One student, nicknamed J.D., had personally received a Sam's Club gift card and chose to use it to purchase items to donate to the Salvation Army instead of using it on himself. "It made me feel joyous because I knew I was able to help someone," said J.D.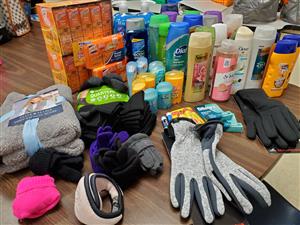 Kindness counts every day but today on Random Acts of Kindness Day, Ms. Nordin's class was excited to focus on their kindness list and pick one of the ideas to tackle right away. After a majority vote, making positive signs to hang around the school was chosen for today's kindness act. "I feel once they do a kind act for another it makes them feel good and they want to continue to be kind and help others," Ms. Nordin said, "This is important for students to learn because it's a life lesson that helps make the world a better place."