Return to Headlines
Students in Drone Program Receive FAA Certification for Drone Licenses
Drones are not just for hobbyists and techies; drone technology has innovated new career opportunities in recent years and Rock Hill's Applied Technology Center is leading the way by providing a new drone program to prepare students who wish to explore that avenue or possible future career path. Since the start of the program last year, ATC's drone course has already generated not only interest but success. Several students in the program have received their FFA Part 107 Certification and are licensed commercial drone pilots.
"It's a great way to get introduced to aviation and the FAA regulations," said South Pointe High School student John, "It's more than a hobby, it's a tool to help you in life." Students are recognizing the benefits of the class as more than just an excuse to fly cool gadgets. Drones are utilized in many professions today- real estate, agriculture, mining, inspections, rescue missions, television, and aerial photography. With drone education offered in the curriculum, students are benefiting from these opportunities to gain modern skills in an ever-evolving world.
The Rock Hill Schools drone program is set up with different levels, culminating in drone building. Students are spending at least 18 academic sessions learning work surveys, understanding maps, mastering rules & regulations of flying, and this may come as a surprise, but science. "Flying drones is a lot more science-based than I originally thought," said John, "We have to learn about weather, density, and formulas before flying the drones."
Real-life application has already started for some students. "One student was an intern for the city in the drafting department," said Ms. Mandy Wolff, Work Based Learning Coordinator at the ATC. "Once her intern supervisors learned she had the knowledge and proper certification for flying drones, they had her use those skills during her internship."
With hands-on flying during class time, students become comfortable with operating and maneuvering the unmanned miniature aerial systems by conducting practice missions. During practice rounds, students are given a mission that will test their different skills of handling the drone. More than technical skills are needed, and students are also tested on listening to commands, following directions, and accountability. Practice missions vary but commonly instruct a flyer to precisely position and angle the drone in an exact location to focus on a given target. Combining classroom time with this type of hands-on experience, the program fully prepares students to take the FAA Part 107 pilot exam.
Taught under the expertise of Mr. Taz Little, Director of UAV of Operations AINautics, the drone class at the ATC is designed to conduct drone operations similar to those commonly performed in the drone industry. As an FAA certified remote pilot (Part 107), certified instructor, and drone specialist, Mr. Little is helping the ATC strengthen its drone education and keep the drone curriculum in sync with evolving technology advancements.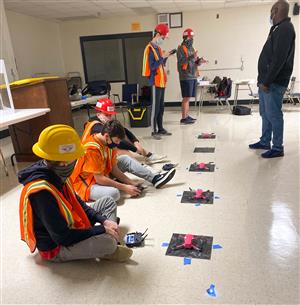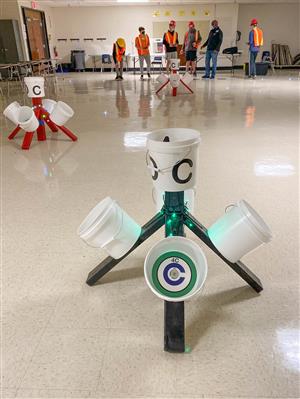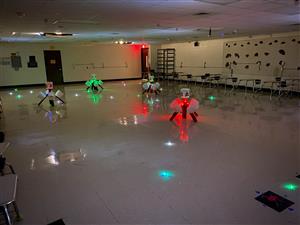 Students on the Drone practice course