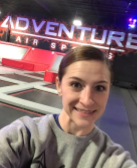 Phone: 803-981-1450
Email:
Degrees and Certifications:
BA in Physical Education
Mrs.

Lindsay Walker

About Me: I was born in Wilson County, Tennessee and moved to York, South Carolina when I was 5. I graduated from York Comprehensive High School in 2003. My first year of college I attended Charleston Southern University where I was a member of the cheerleading squad. I transferred to The University of South Carolina Upstate where I earned my Bachelor of Science in Physical Education. I have a Master's Degree in learning and technology from Western Governors University. I have been married to my high school sweetheart for 13 years, and we have a 3 year old son.

I always knew whatever I did in life would revolve around sports, athletics, and fitness. I love being active. I'm a huge baseball fan, Go Braves, and volleyball is my favorite activity to play. I have been proud to coach the Falcons volleyball team going on 5 years now. My goal in life is to create an environment that teaches children to love physical activity so that they may lead a healthy, full life as an adult.

Learner Profile: I believe my strongest LPQs are principled and reflective. Integrity and honesty are the foundation for personal character. Maintaining those principles even when no one is looking can help build a more welcome and peaceful world. Being able to reflect upon mistakes to make necessary changes allows for improved personal character and development.