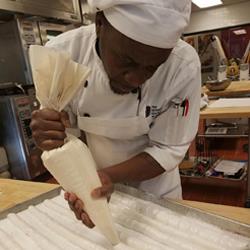 Phone:
Email:
Degrees and Certifications:
Mr.

Tyrone Jenkins

I am Chef Tyrone Jenkins and I am 45 years old. I am a Scorpio, for those that are intrigued by astrological signs, and for the most part; I do possess most of the personality traits associated with the Scorpio. I was born and raised in Charleston, South Carolina but I currently reside in Rock Hill, SC. I am the second child of four children. After completing high school, I worked as a line cook at a local seafood restaurant in my home town for approximately two years.

On May 22, 1992, I decided to join the United States Army. I was immediately sent to Basic Training at Fort Jackson, South Carolina, after I completed Basic Training, I attended Advance Individual Training at Fort Lee, Virginia where I trained as a Logistics Specialist. Some of my duty stations included three overseas tours to Germany; Fort Hood, TX; Fort McClellan, AL; Fort Bragg, NC; Korea; Fort Carson, CO; Fort Gordon, GA; Fort Knox, KY; Fort Benning, GA; and Fort Leonard Wood, MO. I have several deployments to include Guantanamo Bay, Cuba; Bosnia; Kosovo; Afghanistan; Iraq; and Israel. I served a total of 22 years, 6 months, and 2 days in the United States Army. My experience of a line cook followed me into the military. I would normally prepare numerous meals for social events throughout my awesome career. When I retired on November 23, 2014, I wanted to do something that I knew I would enjoy doing for a long time so I attended The Art Institute of Charlotte, where I earned an Associate of Applied Science degree in culinary arts. My end state goal is to become a restaurant owner and own catering business.

I will close out my autobiography by mentioning the most important people in my life, my family. I am married to an Army Veteran, Ceslie. We have known each other since 2001 and dated for three years before getting married on 3rd of July, 2004. We have two beautiful divas Reagan age 11 and McKenzie age 7 and a family pet named Chase who is a Maltipoo.