Return to Headlines
The Leader in Me is aligned with best-in-class content and concepts practiced by global education thought leaders. It provides a logical, sequential and balanced process to help schools proactively design the culture that reflects their vision of the ideal school.
Content from The 7 Habits of Highly Effective People is a key component of the overall The Leader in Me process. The 7 Habits is a synthesis of universal, timeless principles of personal and interpersonal effectiveness, such as responsibility, vision, integrity, teamwork, collaboration and renewal, which are secular in nature and common to all people and cultures.
Click here for a synopsis of the habits in kids' language.
The Leader in Me is also aligned to many national and state academic standards. The process teaches students the skills needed for academic success in any setting. These skills include critical thinking, goal setting, listening and speaking, self-directed learning, presentation-making and the ability to work in groups.
Habit 1: Habit 1: Be Proactive®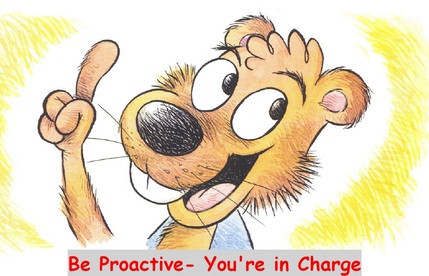 Being proactive means taking control of your actions and reactions. You're in charge of you, and nobody else can "make" you do something. You make your own choices. You choose to be happy or sad. You choose to get upset about something or to not let something bother you.
A PROactive person uses proactive language. For example, you should use phrases like "I can", "I prefer", "I will" and "I get to."
On the other hand, a REactive person says things like "I have to" or "If only" They think other people influence their choicesand therefore they are not responsible for themselves.
HOW CAN YOU BE PROACTIVE IN YOUR LIFE?
Take responsibility for your actions. - if you make a bad choice, admit to it
Don't let other people influence you in a bad way. - if a friend is making a bad choice, don't follow their example
Use positive language. - try avoiding phrases like "I can't" or "I won't"
Make your own fun. - don't wait for other students to approach you on the playground, create a new game or join a new group
WHAT BOOKS CAN HELP ME LEARN MORE ABOUT BEING PROACTIVE?
The Little Engine that Could by Watty Piper
The Very Lonely Firefly by Eric Carle
Jeremy Thatcher, Dragon Hatcher by Bruce Coville
On My Honor by Marion Bauer
Someday a Tree by Eve Bunting
Salt in His Shoes, Michael Jordan: In Pursuit of a Dream by Deloris Jordan
The Real McCoy: The Life of an African American Inventor by Wendy Towle
Habit 2: Begin With the End in Mind®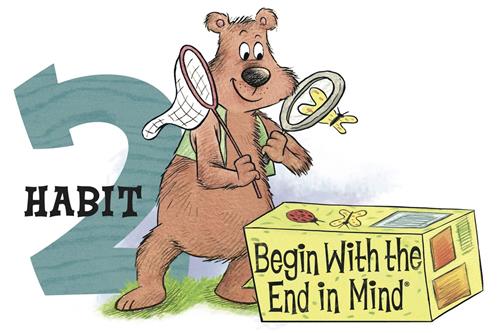 Have a Plan
Beginning with the end in mind will help you in life. By knowing where you want to end up,you'll have a better idea of how to get there. Would a chef be successful if he just threw random ingredients in a bowl? No, he looks at the recipe of what he wants to make and takes small steps to get to the finished product.
What if you were doing a jigsaw puzzle? Could you sit down and put it together without looking at the picture on the box? By seeing what the finished puzzle will look like, you can select the right pieces and put them in the right part of the puzzle.
When you go on vacation, do you get in the car and drive in any direction? You'd get lost pretty quickly if you did that. By looking at a map before you leave, you can find where you want to end up. Then you can decide which are the best roads to take in order to get you there safely.
HOW CAN YOU BEGIN WITH THE END IN MIND IN YOUR LIFE?
Make to do lists.- If you want to accomplish things in your day, start with a list so you know what you need to do
Set goals- knowing where you want to be will help you figure out how to get there.
Budget your money- think about how you spend your money. Should you save it for something special later, or get something not as important now?
WHAT BOOKS CAN HELP ME LEARN MORE ABOUT BEGINNING WITH THE END INMIND?
The Very Busy Spider by Eric Carle
Click, Clack, Moo: Cows that Type by Doreen Cronin
Where do You Think You're Going, Christopher Columbus? by Jean Fritz
The School Story by Andrew Clements
Bobby Baseball by Robert KimmelSmith
Habit 3: Put First Things First®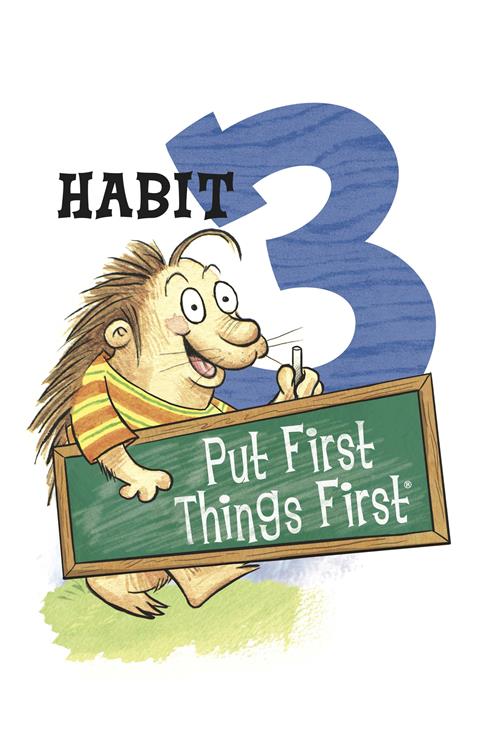 Put first things first means to prioritize things in your life. If you have alot of things to do, ask yourself what is most important and do that first. A lot of time, kids come home from school, go outside to play, call their friends on the phone, play video games, eat dinner, and then try to do their homework at 8:00 at night. Their brains are usually tired at that point in the day. A better option would be to have a power snack when you gethome and get started on your homework first to make sure it gets done. Then you can use the rest of your day for other activities. Adults have to prioritize when we spend money. I make sure I pay my bills, go grocery shopping, and save money before I buy new clothes or go out to dinner.
HOW CAN YOU PUT FIRST THINGS FIRST IN YOUR LIFE?
Make a to-do list and prioritize important things. - Clean your room before you play outside. Help your mom with the dishes before you leave the kitchen after dinner.
Do your classwork before you have free time. - Check your classwork folder to make sure you've turned in all require assignments before you play on the computer or read a book.
Study even if you don't have a test the next day.- If you study a little each day, it's better than studying for 2 hours the night before a test.
WHAT BOOKS CAN HELP ME LEARN MORE ABOUT PUTTING FIRST THINGS FIRST?
The Little Red Hen by Paul Galdone
Alejandro's Gift by Richard E. Albert
Justin and the Best Biscuits in the World by Mildred Pitts Walter
The TV Kid by Betsy Byars
Habit 4: Think Win-Win®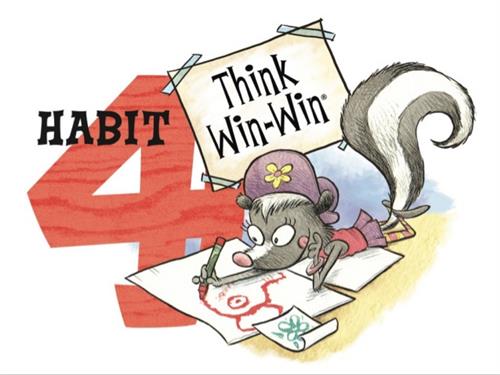 Think WIN WIN means everyone can win. Instead of thinking about YOU and ME, win win thinks about BOTH OF US. Think about a solution that will benefit everyone involved. It's easy to be self-absorbed sometimes and to look out for what will make you happy. WIN WIN isn't about giving up what youwant to make someone else happy, it's about making EVERYONE happy. It's different than the word compromise. In a compromise each person gives in a little. WIN WIN is all about taking two ideas and working together to come up with a THIRD ALTERNATIVE that's better than each idea on its own.
Sometimes competition can happen. Unfortunately, not everyone can officially win the game. You can make everyone feel like winners though. If you win, congratulate the other team on playing a good game. Compliment them on their effort, and tell them you can't wait to play with them again. If your team doesn't win, be happy for those that did. Tell them they did a good job. Maybe ask another player to help you with your skills before the rematch. Also, try to switch teams up each time you play at recess. That way, everyone gets a chance to play with everyone.
HOW CAN I THINK WIN WIN IN MY LIFE?
Be cooperative. - Have an open minded attitude instead of a "my way or the highway" outlook.
Be considerate. - Think about what other people want, not just what you want.
Be a good problem solver. - Find ways to make both sides happy without having to compromise.
WHAT BOOKS CAN HELP ME LEARN MORE ABOUT THINK WIN WIN?
The Rainbow Fish by Marcus Pfister
The Very Clumsy Beetle by Eric Carle
Let's Be Enemies by Janice May Udry
The Butter Battle Book by Dr. Seuss
Dragon Stew by Tom McGowen
The Checker Players by Alan Venable
Habit 5: Seek First to Understand, Then to Be Understood®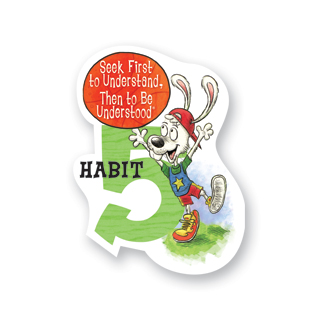 Seek First to Understand means to listen to how other people feel before sharing your thoughts. This is one of the hardest habits to master, but it's also one of the most important. A wise woman once told me that you have 2 ears, but only 1 mouth for a reason. You should use your ears more often. Sometimes we get so wrapped up in getting our point across, that we completely ignore the other person.
HOW CAN I SEEK FIRST TO UNDERSTAND IN MY LIFE?
Listen with your eyes, ears, and heart. -Try to make eye contact when someone is talking to show them that you're paying attention. Use your ears to hear what they have to say and how they feel. Lastly, use your heart to empathize with them and care about what they are sharing with you.
Repeat back what you hear. -To make sure you really understand, repeat what the other person said.
Help friends when you see them having a misunderstanding. -Help them take turns explaining their sides of the story. Remind the other person that it is not their turn to talk yet. After they listen to the other person, they'll get their chance to share their feelings. When that time comes, make sure the one who already shared listens to other as well.
WHAT BOOKS CAN HELP ME LEARN ABOUT SEEK FIRST TO UNDERSTAND?
Stellaluna by Janell Cannon
The True Story of the Three Little Pigs by Jon Scieszka
Rules by Cynthia Lord
Veronica Knows Best by Nancy Robinson
Habit 6: Synergize®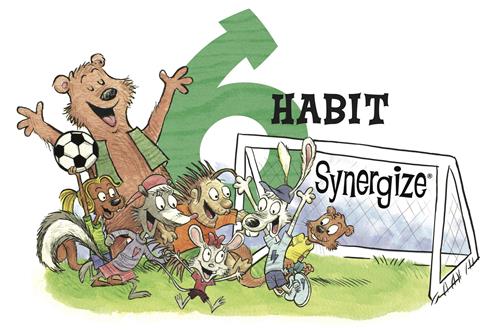 Have you ever heard the saying "Two heads are better than one"? When you synergize, you work together to come up with a product that neither person could achieve on their own. It sounds silly, but think of it like this. 1+1=3. If I come up with one idea, and you come up with one idea, we have 2 ideas, butonce we start talking and brainstorming, together we may come up with 3, 4, or5 great ideas.
HOW CAN I SYNERGIZE IN MY LIFE?
Use cooperative learning strategies at school. - When you're working on a group project, share everyone's ideas. Work together to brainstorm ways to use those ideas to create a project.
Help other people. - If you and your brother both need to clean your rooms before you can play, why not team up. You can both clean his room, then you can both clean yours. Both rooms will get cleaned better and faster, and then you can play.
Share victories. - If you play on a sports team, don't let one player do all the action. Use each player's individual strengths to make the best team possible.
WHAT BOOKS CAN HELP ME LEARN ABOUT SYNERGY?
A Chair for My Mother by Vera B. Williams
Clifford's Spring Clean Up by Norman Bridwell
The Cricket in Times Square by George Seldon
Ruby Holler by Sharon Creech
The View From Saturday by E.L. Konigsburg
Habit 7: Sharpen the Saw®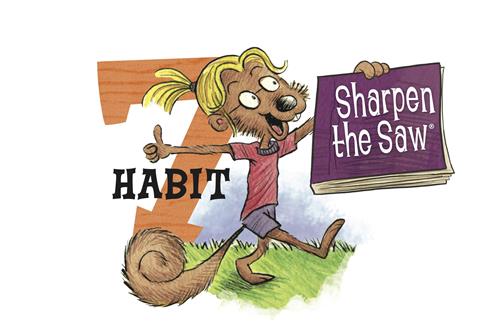 Think of a lumberjack chopping down a tree. Eventually, his saw is going to go dull. Is it going to work as well now? What if he took it to his shop and sharpened it? Now will it work better? Sharpen the saw is all about being a well-rounded individual. It means feeling good in all four areas of your life(physically, mentally, spiritually, and socially). If you have a balanced life, you'll be more successful. You have 4 tires on your car right? What would happen if you put air in 3 of your tires, but not the 4th one? Would you have an easy time going places? You need to find ways to take care of yourself, so that you can be happy, healthy, and productive.
HOW CAN I SHARPEN THE SAW IN MY LIFE?
Physically- play outside, exercise, stretch, join a sports team, go for a walk with your family
Mentally - challenge yourself at school, read a non-fiction book, go to a museum with your family, study even if you don't have a test
Spiritually - go to church, sing, meditate, do yoga, volunteer your time to help others
Socially - visit with friends, spend time with your family, play games, make new friends
WHAT BOOKS CAN HELP ME LEARN ABOUT SHARPEN THE SAW?
The Snowy Day by Ezra Jack Keats
Owl Moon by Jane Yolen
Uncle Willie and the Soup Kitchen by DyAnne DiSalvo Ryan
The Mysteries of Harris Burdick by Chris Van Allsburg