Return to Headlines
Finley Road Elementary School Music Teacher, Ms. Theresa Westphal, Remembers a School of Generations and Traditions
"It's an older school; but I think it's a friendly, family school. Many generations have gone through the school, and they keep coming back with their family members. It's always been a 'home' kind of place. We take care of each other, faculty and staff take care of each other, we take care of the children, and we take care of our family like families do," Finley Road Elementary School's music teacher, Ms. Theresa Westphal, says of the beloved school. For Ms. Westphal, and many others, the school was a place of generations, traditions, and most importantly, family.
For 31 years, Ms. Westphal had been teaching music classes at Finley Road Elementary School, and she has taught across generations of families making this a very special place for her. "We had three sisters here at the school and when their mom picked them up, I asked her if she went to this school," Ms. Westphal says of the multi-generational families of this school, "The mom told me she did… and now her daughters were at the same school." There are also several teachers that used to be former Finley Road students. Ms. Westphal even taught some of them, "It's interesting to hear stories from people who remember when they went to Finley Road themselves."
Every student will have a personal, unique story of their time at the school; but Finley Road music traditions will surely be a part of their experience. Generations of students that pass through the doors will experience the same traditions the ones before them did…
For over 20 years, Finley Road Elementary students have been singing at Rock Hill City Hall during the Christmas season. When City Hall renovated its facility, an outside amphitheater was built, and Ms. Westphal saw that amphitheater as a means to a golden idea. That idea came to life and has been going strong for over two decades. "When I saw the venue, I thought it would be perfect for a holiday sing-along with family and students," she said, "the City liked the idea and wanted to expand to involve the whole public community." Thus, the annual 'The Deck the Halls Concert was created. "The first year was just Finley Road and a couple of church choirs," Ms. Westphal said of the event, "It was a tiny seed that just grew and grew ever since." Rock Hill ChristmasVille eventually blossomed from it, and they combined the sing-along to be part of the yearly tradition's kickoff event. Finley Road has been a part of it all from the beginning.
Finley Road Elementary School has been recognized at a national level as a National Anthem School, an honor Ms. Westphal holds with pride. "Learning the National Anthem, how to sing it properly, and the history of it has always been important to me and to our school," Ms. Westphal said, "We have had recognitions from the governor sending proclamations on National Anthem Day in September. We have gotten things from the mayor's office and these things we kept on display at Finley Road."
Every year, fifty Finley Road students head to Winthrop University to sing the National Anthem before one of the basketball games. The kids gather on the court and lead the crowd in singing the National Anthem.
Ms. Westphal grew up in northern Virginia and came to Rock Hill to attain her degree from what-was-then Winthrop College. "The Rock Hill community is what first made me feel I wanted to be here," she said. Before being permanently assigned to Finley Road, Ms. Westphal served more than one school in the district. When the district grew and more schools were built, she was exclusively assigned to Finley Road where she spent the next three decades. "I've only known the life of Rock Hill schools," she said, "They have been good to me and my daughter who has gone through the district and she is now successful as a student at Clemson."
Sydney Westphal, Ms. Westphal's daughter, attended Finley Road through the fifth grade and left her imprint on the school by means of yearbook designs. "Years back, the PTO decided to let kids submit designs for the yearbook cover and then have the students vote on them," she said, "Sydney's design was voted two years in a row and was the cover of two yearbooks. And now, she's actually a graphic design major at Clemson University."
Ms. Westphal has seen the building undergo transformations such as her music classroom. When she started, there was a referendum to build new rooms for art, music, and physical education. "That music room?" Ms. Westphal stated, "I'm the only teacher that's been in that room. I'm not the only music teacher that has been here, but the only one in that particular room." One of the most special parts of that music room isn't even in the actual room. "Years ago, around 2009, the PTO and the fifth graders painted a music mural right outside my classroom," she said, "It was a gift to the school. The fact that it wasn't a guest artist but the Finley Road family that did it… it was more special that way."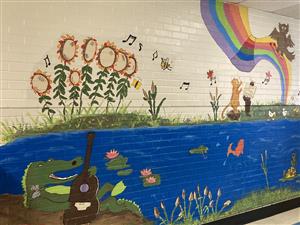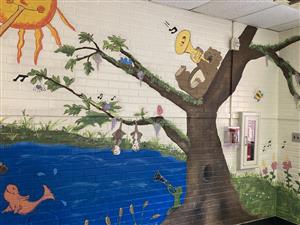 Packing up her music room as she heads to teach at Old Pointe Elementary School next year, she says the room holds a lot of memories for her, "I brought things into my classroom when I was setting up for the first-time years ago, never knowing that it was going to be 31 years later when I was going to be packing it back up." In addition to the music supplies and books, she will be taking little gifts students have given to her over the years, "Instruments are the instruments, textbooks are the textbooks… but these gifts mean a lot to me."
While organizing and packing, Ms. Westphal found things in back cabinets that had her maiden name on it. "When I came here at Finley Road, I was a young teacher and I went through all my life experiences here – my wedding, my daughter – and the people here are the ones that supported me over the years," Ms. Westphal said, "When I had my daughter, they had little baby footprints going down the hallway to my room. Finley Road has been part of my family!"