Return to Headlines
Belleview Elementary School Will Be Remembered for the "Family" it Created Over the Years
"I want Belleview Elementary School to be remembered as a group of people that came together for one purpose. That purpose is to see our children succeed, to succeed beyond Belleview. We were a community of people that came together to be a family, and we want our children to feel like they are part of this family forever." These reflective sentiments from Belleview fifth grade teacher, Ms. Kathi Ross, can be echoed throughout the Belleview community.
"I hope Belleview will be remembered by their loving staff and their dedication. I want it to be remembered as a school that had so much love and helped so many. Belleview was a 'Bright' light." – Kindergarten Assistant Tammy Spencer, 21 years at Belleview Elementary
"Belleview has been my home for over 22 years. I completed my student teaching at this school when I was a senior at Winthrop University. I went from rookie to veteran teacher with the help of wonderful colleagues and great principals over the years. The entire faculty has been my family for all these years and have helped me through good and bad times. I hope that people will remember that Belleview was a great place for students to grow and learn and had many dedicated teachers who impacted these children to be the best!" – fifth grade teacher Lauren McDaniel, 22 years at Belleview Elementary
The neighborhood school that so many love will be missed but always remembered. It harbors memories, old and new, from many in the community but especially Ms. Kathi Ross…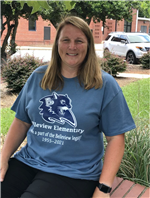 Ms. Kathi Ross, fifth grade teacher at Belleview Elementary School, has been working with children at Belleview since 1995. For the past 25 years, she has taught elementary students, with all those years spent in the fourth or fifth grade classroom. But before becoming a beloved staple in the Belleview building, she spent her formative years here as a student at the very school she now teaches at every day. Kathi Ross remembers the school plays, she remembers the classroom activities, and she remembers always getting in trouble for talking too much. "One of the biggest things I remember is Mrs. Sharon Smith putting together gymnastics shows where we would showcase our jump rope skills and tumbling skills," Ms. Ross said of one of her memories, "I remember performing in it. And there was a picture taken that day that ended up hanging in these hallways for a very long time afterwards."
Eventually the same teachers, one of them being Ms. Sharon Smith, became Kathi's co-workers and they taught beside each other for years to come. "It's funny because when I started, she still had pictures of me from a school play where I was dressed as Martha Washington," Ms. Ross recalls, "And she still had a rock that I had given her when I was a kid." Ms. Ross first joined the Belleview family as an assistant and was hired as a fourth grade teacher the following year. The teachers she remembers having while being a student had become co-workers and those co-workers became family.
"My first 10 years at Belleview I taught in the fourth grade, and I had the same two teachers that I taught with," Ms. Ross said, "And that made all the difference in the world." She credits the family-like vibe Belleview has created over the years to the lack of turnover within the staff. "We didn't have a lot of turn-over, especially the first 20 years I worked here," Ms. Ross said, "The people that taught here, stayed here. It was always one big community here. I know a lot of people can say that about their schools but it always, always, felt that way here." Ms. Ross knew if someone in the Belleview family was hurting or needed something, the others would rally around them. The teachers, administrators, and staff have seen each other grow throughout the years. "Up until about a couple years ago, we probably had 7 or 8 people who had over 20 or 25 years here," Ms. Ross says with pride, "That speaks volumes."
When asked why she remained loyal to Belleview all these years, Ms. Ross commented, "I think the type of school this is and the type of children here kept me coming back year after year." Her mother always taught her to give back, and Ms. Ross knew it was her calling to help others. "I felt the population I was teaching here needed me," she said, "I saw the need, and it drew me to stay here."
Ms. Ross remembers an impactful influence she had on one of her students. Years back, a previously home-schooled student arrived in her class behind the level of the other students. It was a tirelessly vigilant effort to help the struggling child with countless difficulties along the way. "He started the year only being able to write one or two sentences," she said, "By the end of the year I had him writing a whole paper." She remembers telling the student that when it comes time for his high school graduation to let her know, because she wanted to see him walk across that stage. Sure enough, years later, she received a graduation invitation. "I went," she said trying not to cry, "And to this day he still tells me what an inspiration I was to him."
Over her 25 years teaching in the school, Ms. Ross says the biggest change has been the technology citing that the children are way savvier now than ever before, and teachers have to be creative in their teaching methods. "It's hard to release because I am old-school but that is what the students want and that is what keeps them wanting to do the work," she said.
The shift from paper and pencil has teachers creating online lessons to incorporate classroom subjects and topics. "My students are really into online escape rooms this year," she said, "I actually just created a math escape room for them to do."
Between lessons and learning, Belleview Elementary keeps traditions going to create special memories for the students. Ms. Ross loves the yearly tradition of the "Fifth Grade March" where the graduating fifth graders march through all the hallways as a celebratory lap before heading onto to middle school. "They march and get to go by all their old teachers and everyone claps," Ms. Ross says of the yearly event, "It gets me teary eyed every year. I say I am not going to cry, but I do every year."
As the years have passed on, Ms. Ross has seen thousands of smiling children in that march parade… including her own. "I brought my kids to Belleview because I knew I was putting them in the best place," she said," I knew whoever had my child that year, well, that they would be taken care of." Ms. Ross knows her children went into middle and high school well-prepared because of the teachers they had at Belleview.
Belleview Elementary School will always be remembered as a place of family. To Ms. Ross, Belleview will always be about the people: "Through the years, I think every principal we have had has been a big part of keeping Belleview as a family. The building hasn't changed much, except a couple add-ons, but the neighborhood is still the same. And most importantly, we are still the same people in here."