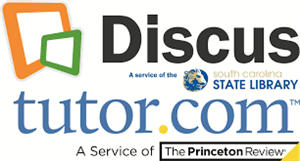 PARENTS,
Is your child having a difficult time in one of their classes? Do they need additional help?
FREE VIRTUAL TUTORING SUPPORT FOR SC STUDENTS IS AVAILABLE!
The South Carolina Department of Education, the South Carolina State Library, and Tutor.com have partnered to provide families additional, high-quality academic assistance at no cost. Tutor.com is available for families 24 hours a day, seven days a week. Students will have access to highly qualified tutors in over 200 subject areas.
Participants will access Tutor.com through Discus – South Carolina's Virtual Library at www.scdiscus.org and may engage in the number of sessions needed to meet their academic goal for improvement.
For additional information, contact Ellen Dunn- edunn@statelibrary.sc.gov
To learn more about DISCUS, please click