Return to Headlines
National Suicide Prevention & Awareness Month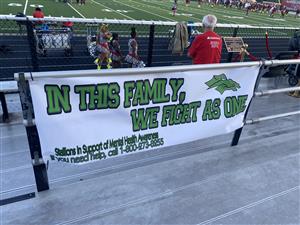 September marks National Suicide Prevention and Awareness Month. Join us in spreading the word about resources and support for those in need. This month, schools are sharing what they are doing to prevent suicide and increase awareness in our community.
Dr. Nancy Turner, Director of the Rock Hill Schools Mental Health Department, believes raising awareness around suicide prevention is important because there has been a significant increase in mental health issues and it is critical to implement services and resources that make a difference.
"Every adult and teacher has been trained in suicide awareness," Turner said. "As a student may make a comment, or a parent calls and says, 'I heard this at home' -- we take this seriously."
Our school district kicked off this awareness effort through several events and will continue to promote the cause for the rest of the month.
We joined NAMI at the Northwestern High School Football game on Friday, Sept. 8 with a booth to promote Suicide Prevention Awareness.
Our Mental Health Department represented RHS at the York County Mental Health Event on Sep. 16.
Many of our schools will participate in the NAMI walk on Oct. 7.
Additionally, Cathy Hurst will be presenting "Suicide Prevention: Perspective of a Parent's View" on the Parent Academy this month.
Hurst is the mother of the Carolina Panthers Tight-End Hayden-Hurst and also serves as CEO of the Hayden-Hurst Foundation. The foundation focuses on raising awareness of mental health issues in children and adolescents. Critical collaborations with nonprofits not only eliminate the stigma surrounding mental health but also provide guidance and support for students in need.
During the Parent Academy, she will be joined by Dr. Turner to offer guidance for parents on how to talk to their children about thoughts of suicide. Turner hopes raising awareness for parents will help break the stigma around talking about suicide prevention.
"Don't wait, be direct, ask questions," Turner said as advice for parents. To see the presentation, tune in at 6 p.m. on Sept. 26 to the Parent Academy's Facebook Page: www.facebook.com/RHSParentAcademy
If you or someone you know is in crisis, our district has a mental health hotline for parents, students, community members, and anyone who needs help. You can call 803-324-7464
For confidential support available 24/7 for everyone in the U.S., call or text 988 chat at 988lifeline.org, or visit https://go.usa.gov/xyxGa.
Learn more