Return to Headlines
Students Visit Our State Capitol
On Thursday, February 2nd, 2023, Ms. Miller and Dr. Knight were granted the opportunity to escort a group of Raven and Aspire students to the South Carolina State House. We arrived and were shown a brief video about the history of the building. The staff surprised us by letting us know, not only would we be granted access to the Governor's office, but our tour guide would be SC Senator Mike Fanning! He did a fabulous job as our tour guide for the day, unveiling all the ins and outs of the State House. We were able to tour the rooms where sessions are held for the Senate as well as the House of Representatives! We also were able to tour the Governor's and Mr. Fanning's personal offices.
The students enjoyed sitting in the Senate seats and making TikToks with the Senator! As we were making our way across the parking garage from one part of the building to another, he even let the kids get into the bed of his truck, "Old Yeller", and cranked up his 350 engine.
Senator Fanning was a pleasure to work with and a wealth of knowledge regarding the various rooms and how they are each utilized. We concluded our trip with a buffet lunch at Golden Corral before we hit the road back to the Flex Center. It was a great day and the kids, as well as the adults, enjoyed every minute!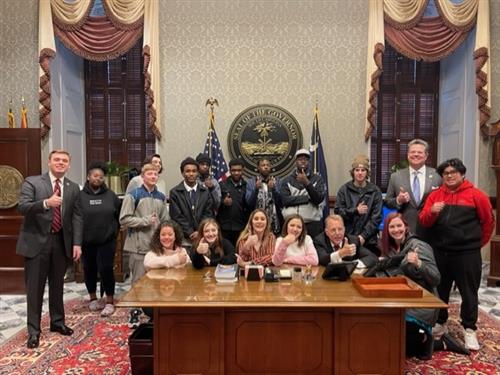 Here is what some students said: 
Saiye – "It was an amazing trip. It was enjoyable and I liked the inside of the offices. The security guard in the Governor's office meant business." 
Za'Veon – "The trip gets a 9 out of 10. My favorite part was Golden Corral - I had about four or five plates of food." 
Amur – "The trip was a 10 out of 10. At the end, I was getting a little tired, but his office was the best part of the whole State House. It was very nice. He was not rude once. He has a teenage soul and he took the time to listen to what the students had to say. It was like he knew where we were coming from. If I could vote, I would re-elect him. Senator Fanning told us the copper roof of the state building was made from the amount of copper it would take to make 8 million pennies. Several of us laid down in the middle of the floor on the top story and we looked through the windows in the roof. The whole State House was beautiful." 
Kendall – "I thought it was going to be boring, but it was really fun. My favorite part was when Senator Fanning took us outside and revved his truck engine for us and let us get into the back. He also had really good candy in his office." 
Kole – "I thought it was really cool. I'm glad we got to meet the senator; he seemed like cool guy. I thought his motives were really good. I like the senate chambers the best."