Return to Headlines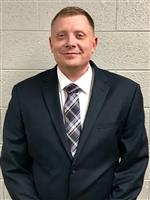 Jimmy Duncan has been named Northwestern High School's athletic director.
Duncan comes to Northwestern after six years at Great Falls High School. At Great Falls, he had the opportunity to grow working alongside hall of fame basketball coach and athletic director John Smith who amassed nearly 1,000 wins in his 47-year career at Great Falls. Duncan took the reins from Smith in 2016, and has led the boys basketball program and served as athletic director while continuing his teaching responsibilities.
Duncan also has coached girls' basketball and football at Great Falls. He also was an assistant varsity basketball coach at Brookland-Cayce High School for two seasons.
As athletic director at Great Falls, he mentored and supervised 25 varsity and junior varsity coaches, managed student-athlete eligibility, budgets, and fundraising for the school's athletic programs. He is currently the chairman for the South Carolina High School League Class 1A basketball committee and the 1A Upper State representative to the South Carolina Basketball Coaches Association.
"Mr. Duncan brings to our campus a great deal of experience in motivating and supporting student participation in athletics as well as providing them with the opportunities to be successful in the classroom," said Northwestern principal Hezekiah Massey.
He holds undergraduate and graduate degrees from Winthrop University. At Winthrop, he was a student manager for the 2007-2008 Big South Conference champion men's basketball team that played in the first round of the NCAA tournament in Denver, Colorado, against Washington State.
Dr. Luanne Kokolis, who is the district's Chief of Strategic Planning, Engagement, and Program Engagement and member of the interview committee, added that Duncan's enthusiasm and student-centered focus on building support for all Trojan sports was impressive. He shared his desire to engage with students to increase school spirit and encourage more participation in the school's athletic programs.
Duncan is excited to about working with Trojan parents, alumni, and the community to build a strong booster organization to support all sports.
Duncan will begin his tenure at Northwestern in January.