Mount Holly Elementary Homepage
Return to Headlines
One School, One Book: Save me a Seat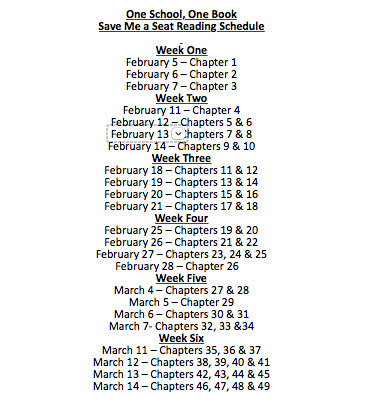 At Mount Holly Elementary, Reading and Kindness are Contagious!
February 5th - March 14th
Tuesday, February 5th: The One School, One Book selection will be revealed. Each student will receive a copy of the book. A schedule of reading is located on the inside cover of the book. We encourage families to follow the schedule by reading aloud to their child/children on Monday – Thursday.
Tuesday, February 5th – Thursday, March 14th and ongoing: As a family, decide on one act of kindness your family can do per week: open the door for someone, pick up something someone has dropped, smile at someone, help someone carry something, say a kind word to someone,…
https://www.pinterest.com/pin/233131718188342165/
Tuesday, February 5th – Thursday, March 14th: At home, students have the option of making a book cover for any book of their choice! To do so, you will need a paper bag cut open with the rectangular bottom cut off, or a long piece of paper or newspaper. Place the book in the middle of the paper and with the book open, mark the paper along the top and bottom so that it matches the height of the book. Push the book aside for a moment, then fold the paper along those two marks. Now put the open book back on the paper and mark the left edge and the right edge. Fold along the marks on the left and right. You have just created a pocket on either side that the covers of the book will fit into. Tuck the front cover into the pocket created by the left-hand fold. Fiddle with the book's back cover until it too fits into the pocket on the right side. Decorate your book cover!
Tuesday, February 5th – Thursday, February 28th: Parents may submit their child's favorite recipe if they choose to do so. Recipes will be compiled to form a recipe booklet. All MHES families and staff will receive the recipe book. All recipe submissions are due by Thursday, February 28th.
Monday, March 11th: At home, students have the option to create a flag or make a collage that represents who they are, what's special about them, their interests, etc. Flags or collages are due to Ms. Weddington by Monday, March 11th. On Friday, March 15th, the winner will get to show-and-tell about their flag or collage on the morning news and receive a prize.
Thursday, March 14th from 6:00-7:30: March into Kindness Family Literacy Night