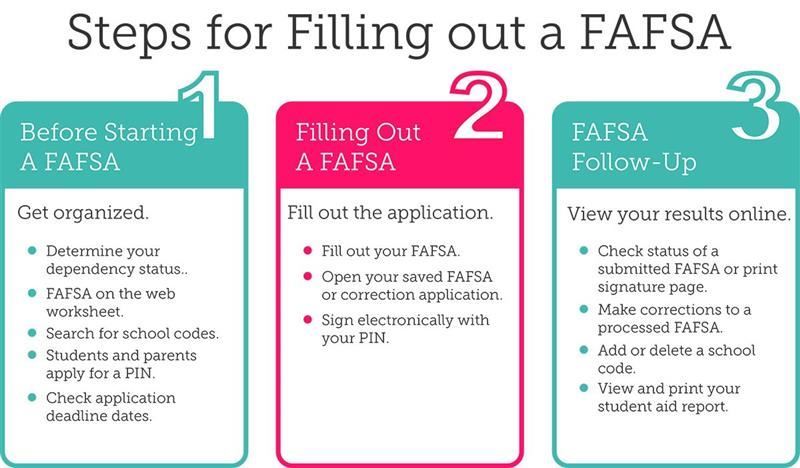 What is FAFSA?

FAFSA stands for Free Application for Federal Student Aid and it's the form you have to fill out to receive financial aid for college. The FAFSA will ask the student's demographics, financial aid and grant eligibility, student dependency, and student and parent financial information.

Why should I fill out the FAFSA?

Filling out the FAFSA is the only way to qualify for federal and state financial aid or grants from colleges.

Who needs to fill out the FAFSA?

The application asks for the information from both students and parents.

How do I fill out the FAFSA?

The application can be found online at www.FAFSA.ed.gov

When should if fill out the FAFSA?

You will fill out the FAFSA during your Senior year of high school, and you will need to fill it out every year that you are seeking aid for college.

For the 2020-2021 year, you will be able to apply starting Oct. 1, 2020. Many federal student aid programs have limited funds, so be sure to apply as soon as you can once the FAFSA is available for the year you'll be attending school. In addition, colleges have their own deadlines. You can find college and state deadlines here www.fafsa.ed.gov/deadlines

FAFSA (Free Application for Federal Student Aid) is now open for parents and students to submit for the 2021-2022 academic year. All students planning to attend college in fall 2021 should complete this free application so college/university financial aid offices can determine your eligibility to receive financial aid.

Virtual FAFSA Information Session & Workshop - Hosted by USC Lancaster Financial Aid Office

Tuesday, October 13th 6:00pm-8:30pm

Parents and students can hear more about the FAFSA and get assistance while completing their FAFSA.

You must register in advance to receive the webinar invitation (sent via email). Use the link below to register and to receive more information about what items are needed to prepare for the event.

FAFSA Help Session Registration

Some financial aid funds are first come, first served so complete your FAFSA ASAP!!