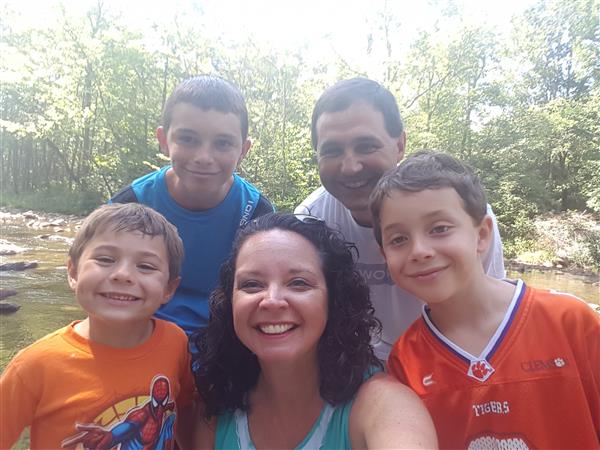 Phone: (803) 985-3529
Email:
Degrees and Certifications:
Ms.

Christina Selle

Welcome to our class where learning isn't a chore....it's an adventure!

I am Christina Selle, 3rd grade teacher at India Hook Elementary School. I am lucky enough to be married to my true soulmate, Derrick Gainey. (Yes, we have different last names; I chose not to change my name and he is ok with that!) I am a proud mother of three boys, Tanner, Dawson and my step-son, Jack. We are lucky that our Boxer, Roxy, allows us to live in her house. Some may say she is a little spoiled; we say she is happy. I grew up right here in York County, SC. After graduating from York Comprehensive High School, I moved to Long Beach, California. There, I received my degree in Fashion Merchandising. After going through the Northridge Earthquake in 1994, I decided to move back to the East Coast. I resided in Atlanta, Georgia for a year, and finally made my way back to Rock Hill, SC. I have lived here happily since 1998.

Once I realized a fashion degree was worthless in this area, I went back to school to get my degree in accounting. I worked in the banking industry for 10 years. During my last years at the bank, I went to school full time to pursue my teaching degree. I am proud to say, I have been an India Hook Pirate since 2007. I started teaching 4th grade, moved to 5th grade, and now I am in 3rd. Having taught various grade, I am able to meet the needs of each learner where they are currently learning.

When I am not teaching you can find me outdoors. My family and I love to send time on the lake, as well as hiking. I do not think people get out and enjoy our area enough! There is so much to see right here! My ultimate happy place is the beach. It doesn't get any better than sand, sun and ocean waves!

Teaching isn't a job for me, it is a way of life! I never stop thinking about how to teach something, or how to make things better for my children. I call my teaching style controlled chaos. At any time you will see many groups working on many different things. I strive to meet the needs of each student that comes into my life. It isn't my job to tell them the standards, it is my goal to lead them to discovery.

So join me as we sail into this learning adventure!